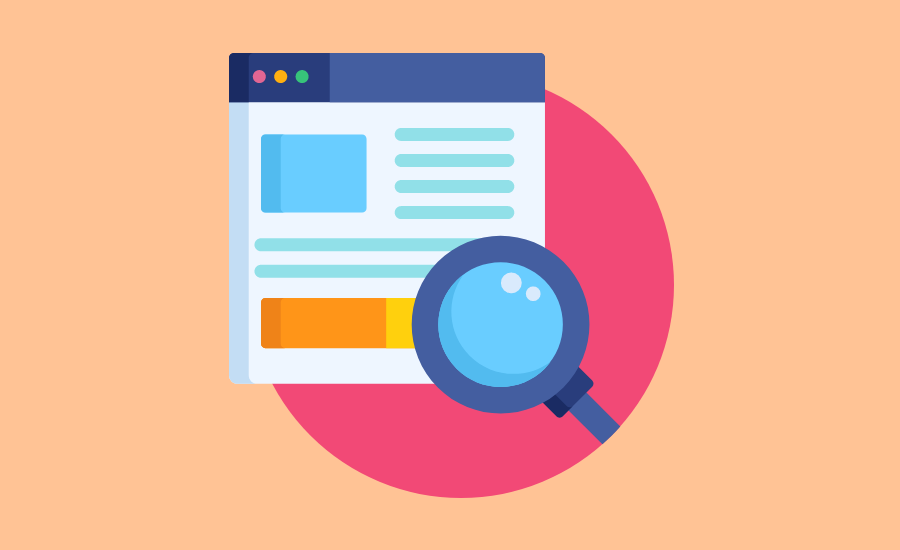 How a single web page can rank for over 4,000 keywords
Customers often have very strong ideas about the keywords they want their website to rank well for. That's a great starting point for us; it gives us a robust basis for keyword research at the start of a digital marketing project, but there's a very good reason why we advise people not to get too obsessive about a small clutch of generic phrases.
What if those few popular keywords are just the tip of the iceberg? What if a single page on your website could rank well and capture traffic from hundreds or even thousands of relevant keywords?
Not only is this entirely possible, our study shows that it's actually a very realistic goal. We'll explain how counter-productive it is to get too hung up on one keyword and why long-tail keywords are so crucial to marketing your business.
Our methodology
Our data ranged over a 90-day period and came from Google Search Console (Search Analytics) for projects that we're actively working on.
In the first instance, we identified a major keyword that the customer had specified they wanted to rank well for.
We then used Google Search Console to identify the page on the customer's website that ranked best and attracted most traffic for this keyword.
Lastly, we filtered the data to show all the other, related keywords that this page also ranked for and downloaded the data to a spreadsheet for closer analysis.
We chose two separate projects as the basis for this study. The first is 4 Young Drivers, an independent car insurance broker specialising in higher risk drivers. The second is Radio Trader, an ecommerce business selling a range of two way radios. We've worked with both customers for several years.
Keyword case study 1 – the insurance broker
4 Young Drivers has identified the keyword "new driver insurance" as being important to them. A page on their website has been optimised to target this competitive phrase and at the time of writing, that page was ranking at an average position 7 for that specific keyword over our date range.
There is no argument that this keyword is driving targeted traffic. In fact, that one phrase drove 952 clicks over that period, which sounds pretty good until you realise that this was only a tiny part of the story. Our data showed something remarkable: the phrase "new driver insurance" was only responsible for 7% of all the clicks to that page.
In total, the page got 97% of its clicks from 4,492 other keywords.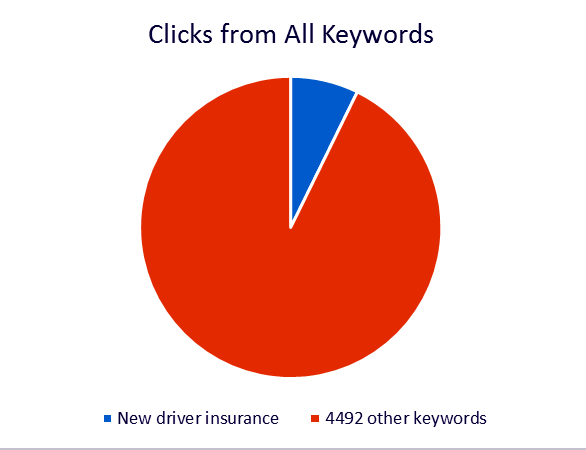 In the interests of a fair analysis we have to point out that not all those keywords were positioned on page one, and that beyond page three of search results, the relevance of the search query to our targeted audience sometimes got weaker.
So what happens when we limited the data to page one results?
If we restricted our analysis to keywords that appeared in the top 10 search results, there is no doubt that we were targeting traffic from almost entirely relevant search queries. But even then, the phrase "new driver insurance" drove just 4% of all clicks.
In total, the New Driver-optimised page attracted traffic from

1,444 unique, page one position keywords

.
1443 other phrases attracted

24,948 clicks (96%)

.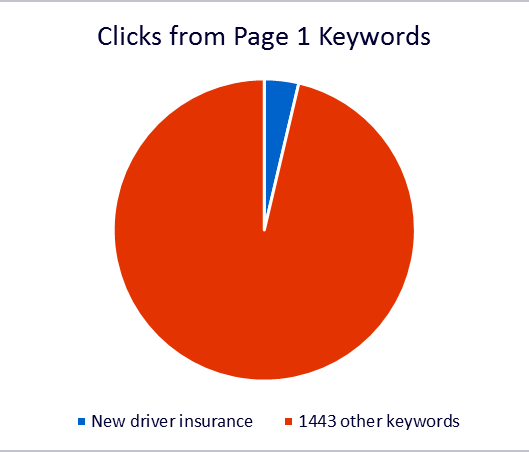 Here are a few examples of highly targeted traffic generated from those long-tail, page one ranking keywords :
new driver insurance without black box
first time car insurance for young drivers
first time car insurance for new drivers
Keyword case study 2 – a two way radio, ecommerce business
Radio Trader sells hundreds of products, each of which is optimised for maximum visibility in search results, but for this analysis we took the keyword licence free radio, which covers a whole category of products that is important for the business to rank for.
As in the previous example, a specific page on the company's website is optimised for this phrase and over the 90-day period in question, that page consistently ranked number one in search results for that phrase. Again, however, this one keyword brought a tiny slice of the action in terms of clicks – just 6%.
If you include three other very close variants of the phrase, i.e. the plural "radios" and the variant spelling "license", that figure goes up to a respectable 29%.
But the bottom line is that 71% of all traffic to that page came from 258 other keywords.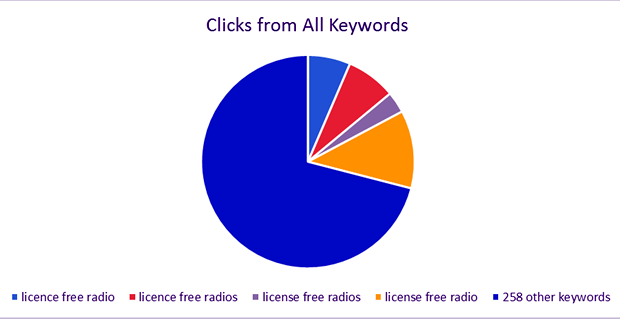 As with our other case study, the lower down the rankings these search results appeared, the weaker the relevance to Radio Trader's targeted audience, but there were still some gems on page two and three which attract relevant traffic.
Limiting the data to page one results
Looking only at the top 10 search results, our optimised page attracted traffic from 49 other keywords, the equivalent of 70% of all page one traffic. Most keywords in this group brought highly targeted visitors, for example:
motorola licence free radio
licence free two way radios
unlicensed two way radios
pmr446 two way radio (PMR446 being the frequency on which licence free radios operate)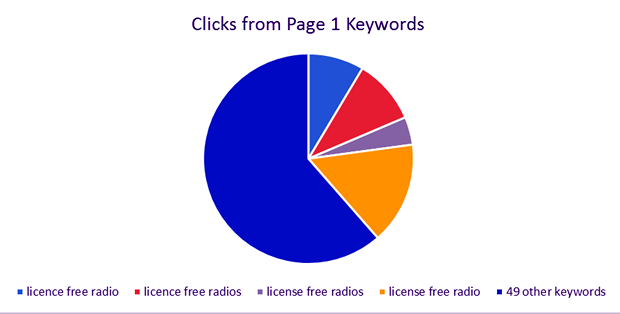 What can we learn from this keyword study?
We can draw several conclusions:
Your "golden" keyword is still important, but even when it consistently ranks at No.1, it's probably only accounting for a tiny percentage of your overall traffic. It's useful to keep some perspective.
Long-tail and low-volume keywords are still a powerful driver for many search queries and often make up a very high percentage of your overall traffic. With voice activated search increasing year-on-year (i.e. speaking into your mobile phone's Google app, or the growing number of voice-controlled assistants such as Google Home and Amazon Echo), these queries aren't going away. In fact they're likely to become even longer and more conversational in style. Real examples of this were particularly evident for our insurance broker:

roughly how much is car insurance for a new driver?
how much does it cost to get car insurance for the first time?
what is the cheapest car insurance for first time drivers?
These long-tail phrases are notoriously difficult to predict and track individually, but it's a useful exercise to download these queries from Google Search Console and analyse them, if only to have some idea what proportion of traffic they're responsible for generating.
Rankings fluctuate up and down constantly – it's normal. If the search query is just right, or if Google tweaks its algorithm, web pages that spend most of their time on page two will sometimes be shown on page one, bringing you a small amount of well targeted traffic. And occasionally, users do look at the second page of results.
There's an old SEO joke you may have heard: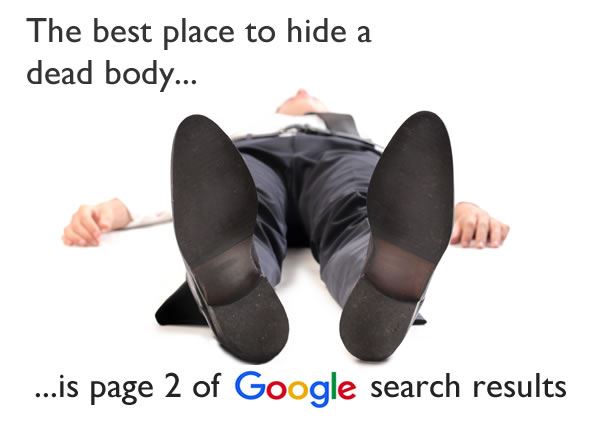 "The best place to hide a dead body is page 2 of Google's search results."
As it turns out, now and then those bodies get right up and take a leisurely stroll onto page one. The moral here is: don't ignore keywords that are showing up on page two: if they're relevant, if they're targeting your customers, work on them, earn them more consistent visibility on page one.
We don't expect customers to stop checking the rankings of their "golden" keywords anytime soon, but hopefully we can reassure them that the hundreds, or even thousands, of other keywords driving traffic are themselves a source of valuable treasure.
If you'd like help identifying the keywords driving traffic to your website, please get in touch.
Call 01935 434734 or email hello@kontrolit.net.